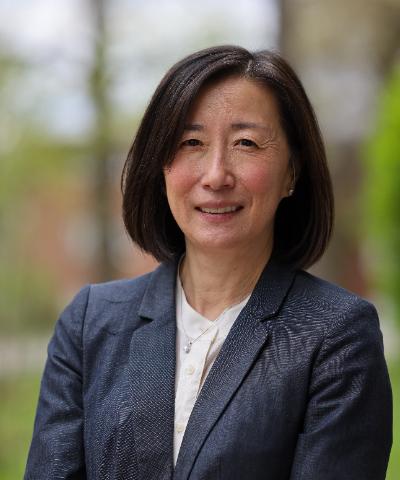 Sunny keeps a handwritten note on the wall of her office that reads, "You literally saved my life."
It came after she obtained a fully favorable decision on a client's case. And while much has changed in the 28 years she has been practicing Workers' Compensation and Social Security Disability law, her goal remains the same: make things better for people who don't have all of life's advantages.
Creating a better life is also what motivated Sunny's parents to move to the United States when she was nine years old. Her father saw more opportunity for his family in America.
For Sunny, that meant learning English as a second language and facing many challenges as an immigrant. She witnessed discrimination first-hand. "I watched people speak down to my parents because of the language barrier," she explains. "I make sure I never do that to anyone. Just because you don't speak the language doesn't mean you aren't intelligent or don't deserve respect."
Sunny lived in the Capital Region for several years, attending Shaker Junior and High Schools.
Her family then moved on to Buffalo, where she finished high school and went to college.
"Growing up, I thought I wanted to be a social worker. Practicing this type of law dovetails with what I've wanted to do in my heart since I was young: to help people though difficult challenges in their lives."
She returned to the area to attend Albany Law School and met her husband, also an attorney. They raised two children in Niskayuna and are active in their community. Sunny is currently President of the board of the Niskayuna Co-op Market, served for many years as Secretary of the board of the Injured Workers Bar Association and helped found the group, Progressive Schenectady.
"Social justice is something that's very important to me. I am giving voice to people who may be marginalized, who are unable to navigate the complex Workers' Compensation system on their own and who, because of a workplace injury may be down and out. They deserve to be heard."
Sunny says Workers' Compensation is more challenging and complicated today, compared to when she started.
"Over the past decade, we've seen injured workers' benefits erode as big business exerts more power. With four primary attorneys who handle workers compensation, we work as a team at BMCQ - so every client gets the benefit of four brains and sets of eyes. Most clients really appreciate those different perspectives."
Now more than ever, she says clients need the expertise and track record that BMCQ offers.
"As a small law firm, we can dig in and really look at a case from beginning to end. There are a lot of pitfalls and ways to go wrong on a claim. We know what they are - and make sure that our clients stay the course."
Education
Albany Law School of Union University, Albany, New York
The State University of New York, Buffalo, New York
Past Positions
Silverman, Silverman & Seligman, PC, Senior attorney and partner, 1994 to 2019
Professional Associations
New York State Bar Association, Member, Present
Injured Workers' Bar Association, Secretary, 2002 to 2012
Schenectady County Bar Association, Present
Current Employment Position
Bar Admission
Languages